Railroad Bridges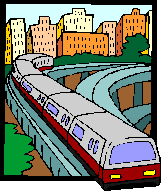 This page contains information useful to those interested in the design or research of railroad bridges.
Railroad Bridge Types:
Organizations:
Reference Documents:
Santa Paula Creek Bridge Video (requires high speed connection)
The existing Santa Paula Creek Bridge consists of a old steel though truss supported on concrete abutments. The goals of this project were to reuse the historic bridge structure after widening the Santa Paula Creek and minimize the down time of the local railroad company. To accommodate these goals, new concrete substructures were built under the existing bridge and approaches for a two span bridge that would reuse the existing steel truss for one span. A new steel through girder span was constructed for the other span. The video shows the two-day construction phase where the existing steel truss was moved to the new substructures and the new through girder span was placed.
Related Companies: